Aramco signs 22 deals; expands Namaat industrial investment programme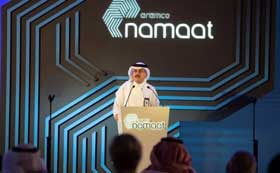 State-owned firm Saudi Aramco recently signed 22 MOUs and a joint venture agreement, in line with its plan for a major expansion of its industrial investment programme known as Aramco Namaat — all focusing on sustainability, technology, industrial and energy services, and advanced materials. Namaat, which roughly means collective growth in Arabic, was formed to "tap into the vast opportunities in Saudi Arabia to create new value.
Companies that signed the deals with Aramco include DHL, Samsung, Hyundai, Honeywell, as well as UK technology firm AVEVA, Solvay, Air Liquide, Linde, and Shell, covering non-metallics, catalyst manufacturing, carbon capture, sequestration sectors, and others.
"Through Namaat, we are attracting world-class partners who share our goal of continuous industrial development," Ahmed Al-Sa'adi, the company's senior vice president of technical services, said.
He added the Namaat programme leverages a range of finance, funding, tax and regulatory incentives through the Shareek programme, a government initiative aimed to boost its synergy with the private sector.
Read: Aramco/Sabic to realign marketing/sales for polymers, petchem and fuel products
Aramco unveiled the first set of deals under the programme last year, as part of its ongoing push to diversify income sources, in line with the Kingdom's economic transformation goals.
The agreements are seen to drive economic growth and diversification.
The 22 new MoUs signed under Namaat include:
Solvay – an MoU with the goal to pursue the development of advanced Non Metallic Materials and localisation of a composite value chain;
Veolia – Exclusive MOU to confirm the commercial feasibility of establishing a world-class integrated waste management company, alongside a strategic IK stakeholder;
Air Liquide & Haliburton & PIF, Baker Hughes & PIF, Linde & Schlumberger & PIF – three separate non-binding MoUs to evaluate Carbon Capture & Sequestration (CCS) opportunities and potential partnerships
Samsung Engineering, Hyundai and Saipem – three separate MoUs on Engineering, Procurement and Construction;
Elion and Green Groves – two separate MoUs to evaluate the feasibility of localising nature-based solutions;
Honeywell – an MoU with the goal to establish a JV that will develop and implement next-generation digital solutions that will improve efficiency, sustainability and enable operational excellence of industrial facilities;
Gulf Modular Industry (GMI) – MoU to validate the feasibility of developing and using non-metallic applications in the modular building manufacturing process in the building and construction sector.
Armorock – MoU to validate the feasibility of developing and using non-metallic polymer concrete applications in the building and construction sector.;
Shell AMG Recycling & United Company for Industry – a trilateral MoU on Metals Reclamation and Catalyst Manufacturing;
AVEVA – an MoU with the goal to establish a strategic alliance to localise development and deployment of various digital technologies including Artificial Intelligence (AI), Machine Learning (ML), and Digital Twin; and
Baosteel – an MoU to conduct an engineering study and develop plans needed to build, own and operate an integrated steel plate manufacturing facility in Saudi Arabia.