Dutch CCS Aramis formed by TotalEnergies, Shell, EBN and Gasunie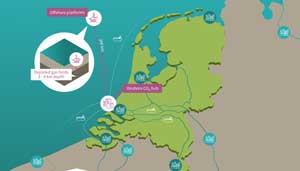 Four European gas partners will collaborate towards the development of new CO2 transport infrastructure to enable offshore storage of CO2 from industrial clusters in the Netherlands with the set up of Aramis. The firm is looking to take final investment decision by 2023 with an operational start-up in 2026. The project aims to make an important contribution to the CO2 reduction targets for 2030, as laid down in the Dutch National Climate Agreement and the European Union's Green Deal.
The Aramis project aims to contribute to the reduction of emissions by providing CO2 transport to unlock storage capacity for industries such as the steel, chemicals, cement, refineries, and waste incinerators. It will offer a decarbonisation solution for the industrial sectors by transporting CO2 to depleted offshore gas fields under the Dutch North Sea. It will be based on an 'open access' philosophy to give industrial customers and offshore storage providers the possibility to connect to the infrastructure at a later stage.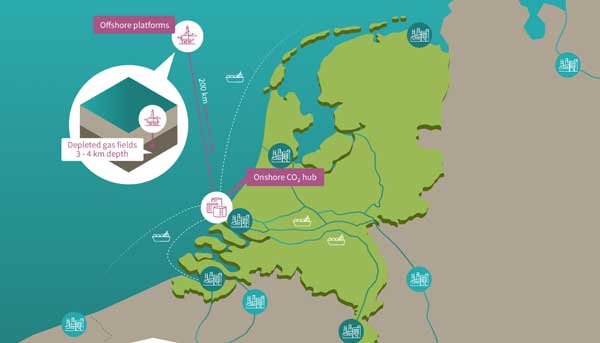 In collaboration with various local partners and initiatives, the initiators of Aramis will investigate the development of the CO2 transport facilities to provide access to offshore CO2 storage. The facilities will include, amongst others, an onshore CO2 collection hub that is located at the Maasvlakte in the Port of Rotterdam. The CO2 from potential customers can be transported to the hub via ships (coaster ships and river barges) as well as through onshore pipelines. The onshore CO2 collection hub will consist of a compressor station and a shipping terminal with temporary storage facilities for the liquid CO2 arriving by ship. An offshore pipeline will transport the CO2 from the collection hub to the offshore platforms, where the CO2 will be injected into depleted offshore gas fields 3-4 km below the seabed.
Collaboration between projects is crucial to drive the energy transition. Therefore, the project also aims to create synergies between Porthos and Athos; existing offshore CCS projects in the Netherlands targeting local industrial clusters. In this way, the Aramis project would be able to realise infrastructure that can serve more industrial clusters to support their transition towards sustainable production processes.
Throughout the various phases of the project, Aramis' aim is to communicate transparently and timely. Information will be made easily accessible, and engagements with all stakeholders frequent, to ensure interests and concerns are addressed.
Bruno Seilhan, Vice President CCUS at TotalEnergies, said: "The development of carbon capture and storage value chains is essential for decarbonizing industries and achieving carbon neutrality in Europe. Developing large-scale CCUS solutions for hard-to-abate industrial emissions in Europe is fully aligned with our Climate Ambition to get to net zero emissions by 2050 together with society. This is a collective effort in which Aramis' four leading partners are pooling their expertise and ambitions to meet emitters' needs."
"This public-private partnership aims to provide customers an opportunity to decarbonise at scale, which is crucial for hard-to-abate sectors to meet climate change targets," said Marjan van Loon, President Director Shell Netherlands. "By addressing the energy transition collaboratively and collectively, we can give our industrial partners an emissions reduction solution to help realise the Dutch National Climate Accord and EU Green Deal goals. Capturing and storing CO2 is a good way to take large steps in the short term. In addition, CCS is a relatively low-cost solution to reduce CO2 emissions in the atmosphere at scale."
"EBN has a responsibility to contribute to the government's CO2 reduction ambitions that include developing CCS-projects with public involvement. On the path towards net zero emissions in 2050 CCS is a crucial technique. Setting-up an efficient CCS infrastructure and system requires a bundling of knowledge, competence and strong public-private partnerships," said Jan Willem van Hoogstraten, CEO of EBN. "With the Aramis CCS project, we're entering a new necessary phase in the development of an offshore CCS-infrastructure in the Netherlands that also looks for synergies with the offshore CCS projects Porthos and Athos."
"CCS is an appropriate measure to reduce CO2 emissions in the short term. By bringing public and private parties together, we efficiently develop the integral infrastructure for the transport and storage of CO2," says Ulco Vermeulen, member of Gasunie's Board of Directors. "Aramis creates an important link. With these plans, we can connect various CCS initiatives and contribute to an energy transition at the lowest possible social cost."