Gazprom, RusGasDobycha proceed with Ust-Luga LNG-chemical project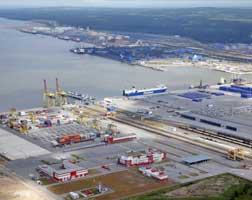 PJSC Gazprom and RusGasDobycha are going ahead with plans for the construction of a previously announced natural gas liquefaction and processing complex on the Gulf of Finland near the seaport of Ust-Luga, Leningrad Oblast, Russia.
Read: OGDCL, Gazprom sign oil and gas cooperation deal
The partners have completed agreements for basic design of the project, as well as specifications for feedstock and commercial products to be produced at the proposed complex, Gazprom said.
With RusKhimAlyans—a 50-50 special-purpose venture of Gazprom and RusGazDobycha that will act as project operator—now issued technical specifications for connecting the complex to Gazprom's gas transmission system, the partners also have started drafting design documentation, as well as fully completed engineering surveys at the construction site, which is currently being cleared and prepared for construction works.
While efforts remain under way to attract financing from Russian and international credit institutions for the more than 700 billion-rubles project, Gazprom said the partnership, by year-end 2020, will still proceed with submitting project design documentation for regulatory approval, place orders for long-lead equipment, and select an engineering, procurement, and construction (EPC) contractor for the complex's gas processing units and off-site installations.
The partnership also plans to award a contract for project management consultancy (PMC) by year-end, Gazprom said.
Using a feedstock of wet natural gas produced from Gazprom's Achimov and Valanginian deposits in the Nadym-Pur-Taz region of the Yamal Peninsula, the proposed RusKhimAlyans complex will process 45 billion cu m/year of gas to yield 13 million tonnes/year of LNG, as much as 4 million tonnes/year of ethane, and more than 2.2 million tonnes/year of LPG.
While LNG and LPG produced at the complex will be exported, ethane from the site will feed nearby RusGazDobycha subsidiary Baltic Chemical Complex LLC's (BCC) proposed US$13-billion ethane cracking project, which will produce more than 3 million tonnes/year of polymers once completed.
About 20 billion cu m/year of residual gas from the RusKhimAlyans complex will flow into Gazprom's gas transmission system.
Gazprom said commissioning of the RusKhimAlyans and BCC complexes will be synchronised, with the first trains scheduled for start-up during fourth-quarter 2023 and the second trains to follow in fourth-quarter 2024.