Singapore used cooking oil fuelling ocean vessel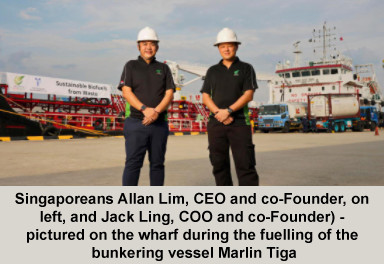 Global mining conglomerate Anglo American has successfully trialled the use of sustainable biofuel to power a chartered bulk carrier ship during a voyage from Singapore to South Africa.
The trial was conducted onboard the Frontier Jacaranda, a "capesize" bulk carrier – too large to transit the Suez Canal or Panama Canal – owned by Japanese shipping company NYK Line. It was instrumental in verifying the stability of the biofuel in storage and its performance as a fuel.
Data gathered is providing new insights into wider efforts to introduce biofuel to the maritime sector, paving the way to improving its cost-effectiveness and using higher percentage blends in future trials.
The conversion of waste cooking oil by Singapore firm Alpha Biofuels into biodiesel for transportation, aligns with the principles of the circular economy, by providing a fresh and environmentally beneficial use for what would otherwise be disposed of.
For the first time in Singapore, this marine biofuel was supplied to the Singapore registered Marlin Tiga as Biodiesel fuel (BDF), blended with marine grade oil, and onwards to the receiving vessel Frontier Jacaranda.
Singaporeans Allan Lim (CEO, Founder) and Jack Ling (COO, Founder) of Alpha Biofuels believe they can scale up considerably at their plant in Tuas Singapore where they currently turn UCO into BDF. With local and global demand growing exponentially, Alpha Biofuels could conceivably see 2000% growth within the next year or two.
What's important to Lim and Ling, as it is to all legitimate producers of UCO and BDF, is that it has to be the real thing: "We must be able to verify that the source of our biofuel is genuinely waste cooking oil and not substituted or contaminated in any way."
Alpha Biofuels supplied the blended fuel to Toyota Tsusho Petroleum (TTP), consisting of 7% biofuel and 93% regular fuel, who in turn performed the ship-to-ship bunkering trial from Marlin Tiga to the bulk carrier Frontier Jacaranda, charted by Anglo American at the Port of Singapore last month (11 June).
This combination reduces CO2 emissions by around 5%, and is compliant with the International Standard Organisation's requirement for marine fuels and requires no substantial engine modifications.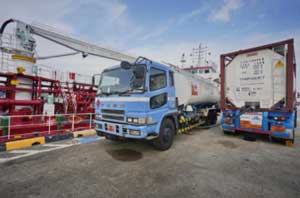 This was the first attempt in the marine fuel industry to supply BDF to the Japanese company's ocean-going vessels in Singapore.
The establishment of the procurement and regular use of biofuel, which are expected to reduce Greenhouse Gas (GHG) emissions at the Port of Singapore, the world's largest marine fuel market, will help to shift towards a carbon-free society.
The maritime transport industry, which accounts for at least 2% of the world's GHG emissions, is facing up to the issue of reducing emissions, as the volume of maritime transportation is expected to continue increasing against the backdrop of growth of the global economy.
In 2018, the International Maritime Organization (IMO) adopted a strategy for reducing emissions from ships, setting a target of 50% emissions reduction, compared to the 2008 level by 2050.
Moreover, the Japanese government has announced that it will reduce GHG emissions by 46% compared to the 2013 level by 2030 and achieve carbon neutrality by 2050. It is also promoting a shift to marine fuels from heavy oil and light oil, which are petroleum-derived, to alternative fuels under its Green Growth Strategy.
The movement toward decarbonisation in the marine transport industry is accelerating through initiatives such as promoting conversion to alternative fuels.
In October 2020, the Toyota Tsusho Group began supplying liquefied natural gas fuel (LNG) to ships using ship-to-ship bunkering for the first time in Japan, and has been focusing on efforts to switch to alternative fuels for ships, such as the first trial biofuel operation by a marine fuel supply ship (bunker barge) in Singapore in April 2021.
Besides the maritime industry itself, Anglo American is one exporter which is exploring a number of ways to reduce carbon intensity in its ocean freight operations, including the use of ammonia as an alternative marine fuel, as well as adding "capesize" vessels into its chartered fleet fuelled by LNG, which reduces CO2 emissions by approximately 35%.
Lim emphasises that it's so important to find ways like this to cut shipping's global carbon footprint, as 90% of all goods are moved around the world by sea transport, which currently accounts for at least 2% of global emissions, or approximately 1 billion tonnes of CO2 and GHGs per year.
This puts the maritime industry on a par with global aviation – covering passenger and freight transport – but not half as bad as all road transport, which accounts for more than 10% of global emissions.
This is all good news for Singapore, Lim suggests, as it's very reliant on the shipping industry. It is, after all, regarded as the world's busiest port, in terms of the total shipping tonnage. And Singapore is also always on the lookout for ways to cut its emissions and become more sustainable in every way possible.
Alpha Biofuels should not have a problem sourcing for and collecting all the UCO it needs in Singapore, but Lim will consider tapping into the neighbouring Malaysia and Indonesia markets if more volume is required to meet demand.
Lim explains that Alpha Biofuels has the experience and the right technology in place to produce UCO with the lowest possible impact on the environment and is working hard to scale up its operations.
"We do need to make sure the UCO is verified as waste. It must not be contaminated in any way or adulterated with fresh cooking oil, as that is not ISCC certified. Quality control is important in the collection, processing and supply chain." he says.
In April this year Alpha Biofuels was involved in the first trial of its kind conducted in Singapore and by a Japanese company, TTP, as the physical bunker supplier which operates bunker barges in the Port of Singapore. The trial was undertaken in collaboration with industry and Nanyang Technological University (Maritime Energy & Sustainable Development Centre of Excellence) and continues until September 2021.
For someone who made a start on the sustainable biofuel journey 13 years ago – significantly supplying the Earthrace biodiesel fuelled trimaran powerboat when it docked in Singapore on global ocean venture in June 2008 – now Lim, along with co-founder Ling, is fuelling the heavily-polluting bunkering vessels, along with ocean-going bulk carriers regularly coming into port for fuel.
Singapore has come to realise, according to  Lim, that the vegetable oils it cooks with at its UNESCO World Heritage listed hawker centre stalls, along with its highly regarded restaurants, doesn't go down the drain into grease traps. It's in demand locally and globally as UCO and BDF, as a clean transport fuel.