China's coal moratorium challenging for Asia's emerging markets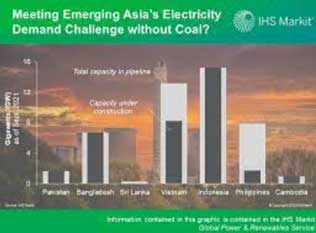 China's announcement at the United Nations General Assembly that it will no longer build any new coal-fired power plants abroad accelerates the energy transition in Asia's emerging markets but also raises challenges, according to a new analysis by the IHS Markit Global Power and Renewables service.
In nine key emerging Asian markets* that IHS Markit analyses in the region that receive significant foreign investment in energy projects, electricity demand is expected to grow by 750 TWh during 2020-30, or roughly equivalent to the total demand of France and Spain combined.
Much of the expected electricity demand growth will need to be fulfilled by 24/7 baseload generation due to the high share of industrial customers in these countries relative to mature economies as well as basic electrification of households.
While renewables like wind and solar power can help meet much of that new demand, the intermittent nature of renewables make it harder to fill the baseload generation gap.
IHS Markit estimates that if solar and battery storage were used to meet all of the incremental demand, it would require 70-130 GW of batteries. In comparison, only about 5 GW of battery storage capacity were installed globally in 2020, the highest year on record.
Many regional governments have recognized natural gas as a "bridge" to meet the short-to- medium-term demand challenge with energy transition. Indeed, natural gas-fueled power plants can be built relatively fast and can fulfill baseload capacity requirements while providing flexibility to meet peak demand.
However, most of these markets are facing difficulties to source enough gas supply, mainly due to domestic gas supply constraints and lack of LNG import infrastructures. There are also pricing questions about gas—especially LNG—relative to coal in Asia.
As a result of this supply-demand gap and limited alternatives for baseload generation, IHS Markit expects that a number of new coal plants—mostly those that are already under construction or have secured financing and in advancing planning—will still come online in the next decade.
There are roughly 34 GW of coal-fired plants under construction in the region (this figure does not include an additional 32 GW under construction in India), according to the latest IHS Markit data. An additional 24 GW are in fairly advanced planning stages or have closed financing but have yet to begin construction. IHS Markit expects roughly half of them—about 11 GW and almost all in Vietnam and the Philippines will still be brought online.
Beyond 2030 IHS Markit expects very few—if any—new coal plants to be built in the region. This means it will be critical for mature battery storage technologies to be developed to grid scale over the next decade to assure long-term supply reliability. Gas-fired power will also be needed to provide baseload and flexibility.
"The fact of the matter is that, for South and Southeast Asia markets, investment in power infrastructure must continue to grow for all technologies just to keep up with demand. There is a complex balance between supply reliability and moving towards clean energy for fast-growing regions. Ending the buildout of new coal plants needs to be part of a much bigger discussion," says Xizhou Zhou, Vice-President/Managing Director, global power and renewables, IHS Markit.
Read also: Asia progressively transitions to clean energy; but coal energy remains significant