India Glycols and Shell Catalysts partner for sustainable chemicals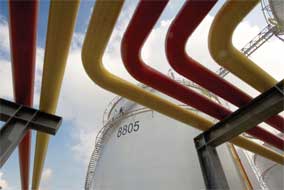 India Glycols or IGL, which is involved in sustainable intermediate chemicals like green Ethylene Oxide (EO), Mono-Ethylene Glycol (MEG) and a wide range of speciality chemical products, produced from bio-based ethanol, has tied up with Shell Catalysts or SC&T for new generation catalysts needed to produce EO. SC&T has formulated EO catalysts that are said to provide performance of high selectivity and stability under IGL specific operating conditions which can be challenging due to the bio ethylene feed derived from ethanol.
A high EO catalyst selectivity results in direct variable costs savings as less feedstock (i.e., ethylene) is consumed to manufacture products. Through being a serial early-adopter of new EO catalysts from SC&T, IGL's production unit has been able to continuously improve its product yield and lower overall production variable costs.
The most recent charge of Shell High Selectivity EO Catalyst S-889 started up in July 2020 and achieved 92% selectivity combined with excellent stability that has enabled the unit to extend its production cycle. This is the fifth charge of S-889 catalyst, which shows the trust that IGL places in the exceptional performance of SC&T catalysts which have a strong track record of performance under all operating conditions. This catalyst performance has allowed the unit to maximise production during favourable market conditions whilst maintaining a high average selectivity and low impurities generation.
As Jagdish Rao, SC&T Technical Services Manager has observed: "IGL's agile work culture with a clear focus on adopting new technologies for continuous improvement is a key differentiator and has helped IGL to be a pioneer in the production of sustainable chemicals. SC&T's partnership with IGL demonstrates our customer centric approach in developing customised catalyst and technology solutions."
SC&T has partnered with IGL for over 20 years and is proud to support IGL and power progress in the profitable growth of sustainable chemicals.