LanzaTech, BASF transform industrial off-gases into sustainable chemicals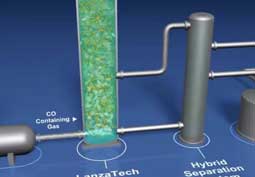 The US carbon recycling technology company LanzaTech and German chemical company BASF partnership has achieved a milestone in transforming the carbon contained in industrial off-gases into valuable chemicals. In this collaboration, LanzaTech contributes its unique, innovative gas fermentation technology, while BASF provides its expertise in the development and operation of chemical processes.
Utilising special bacteria, they have been able to produce compounds such as n-octanol at laboratory scale from carbon monoxide and hydrogen, the main components of emissions, e.g. from the steel industry. Until now, industrial exhaust gases have either been flared or recovered for energy and used to produce electricity and steam.  In this partnership, the two companies are working on a process using a biological capability developed by Dr Ramon Gonzalez, currently a Professor at the University of South Florida, which will allow the carbon in the off-gas to be utilised as a raw material for the production of chemical products like n-octanol.
Within just a few months, the two companies have not only developed a suitable strain of bacteria to produce n-octanol, they have also designed an innovative process concept to allow continuous product generation and purification. As a next step, the teams will focus on optimising the biology and technology design to deliver an efficient production process.
One advantage of this process is that the microorganisms are not particular about the composition of the exhaust gas, as they are able to utilise varying ratios of carbon monoxide, hydrogen, and carbon dioxide. The microorganisms are also tolerant to many different impurities, so there is no need for complex steps to purify the exhaust gas. LanzaTech's technology can use different feedstocks and can also recycle solid waste carbon from household or agricultural waste. By transforming solid waste materials into a gas stream via controlled partial oxidation, the carbon and hydrogen contained in these gases can be fixed into chemical products via the same gas fermentation process, instead of being released into the environment.
Read also: Indian Oil and Lanzatech to set-up pilot plant for CO2-lipids