LUKOIL commissions polymer-bitumen binders unit at its Nizhny Novgorod refinery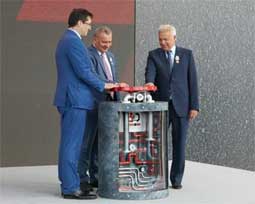 Moscow-headquartered energy corporation PJSC LUKOIL has launched its polymer-bitumen binders production unit at LUKOIL's Nizhny Novgorod refinery. Deputy Prime Minister of the Russian Federation Yury Borisov, Governor of the Nizhny Novgorod region Gleb Nikitin and President of PJSC LUKOIL Vagit Alekperov took part of the recently-held ceremony of commissioning of the unit  in Kstovo.
The new production unit with annual output of over 150,000 tonnes will allow to expand LUKOIL's bitumen product range by introducing modern modified products and innovative polymer-bitumen binders. A significant increase in roadway pavement lifetime will be achieved by applying these products, as well as the unique technology of manufacturing rubber asphalt concretes with the addition of crumb rubber produced  from recycled auto tyres.
Commissioning of the facility is another stage in the development of the bitumen cluster of the Nizhny Novgorod refinery. Over the last few years, the refinery saw the opening of a bitumen products loading terminal and a research centre.
Vagit Alekperov, President of LUKOIL said that Russian motorway infrastructure and the industry in general will benefit from commissioning of the new bitumen production facility, as well as from the continuous work conducted in our Research Center. "Our specialists work on modelling traffic loads and weather conditions in order to create efficient and stable asphalt concretes formulas," he furthered.
Read: Lukoil builds catalytic cracking complex at the Perm refinery; to open in 2026