Sasol and Air Liquide to buy 900 MW of renewable energy in South Africa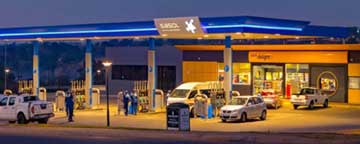 South Africa's chemical firm Sasol and French multinational industrial gas provider Air Liquide are inviting bidders to participate in a Request for Proposal (RFP) process for the supply of renewable energy to Sasol's South African operations.
In this way, Sasol wants to procure an energy supply for its synthetic fuel plant in Secunda, Mpumalanga. "Subsequent to setting the 2030 target [to reduce 2017-referenced greenhouse gas emissions at least 10% from South African operations], Sasol entered into an agreement with Air Liquide for the sale of the air separation units (ASUs) at the Secunda site," the company stated. "Air Liquide also committed to greenhouse gas (GHG) emission reduction interventions over and above those committed by Sasol."
"Due to the highly integrated nature of the Secunda site and the footprint associated with the ASUs, collaboration between the companies is necessary to ensure optimal GHG reduction benefits," said Lebelo Lukhele, Chief Procurement Officer: Energy Business.
Read also: Investment uncertainty and renewable energy top issues for Asia's electric industry
"It is anticipated that a collaborative approach will not only result in the original Sasol commitment for the Secunda site being met, but will also be exceeded through the combined efforts."
As a result of the sale and the collaborative decarbonisation approach, both companies will now jointly procure 900MW of renewable energy by 2030, with an end state allocation of 500MW to Sasol and 400MW to Air Liquide, significantly increased from Sasol's originally intended 600MW. This transaction will represent the largest renewable energy procurement deal from the private sector in South Africa and is testimony to the opportunities that emanate from partnering.
"We are targeting the procurement of the first 600MW of capacity this year [around 1800 GWh per year] of which 400MW will be allocated to Air Liquide and 200MW to Sasol, with the envisaged commercial operation dates commencing in 2023," added Lukhele.
It is envisaged that the successful bidder(s) will supply energy as Independent Power Producer(s), in terms of Power Purchase Agreement(s) to be agreed between the parties.
In aligning with the Integrated Resource Plan (IRP 2019), Wind and Solar Photovoltaic (PV) technologies are favoured for the first tranche of the programme. The individual projects must demonstrate a generation capacity of at least 70MW [~200 GWh per year].
The closing date for submissions of expressions of interest is 23 April 2021.