Sasol, Uzbekistan GTL in catalysts MOU for gas-to-liquids project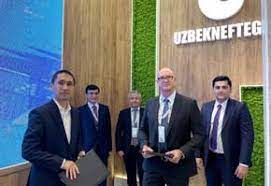 South African chemical firm Sasol and Uzbekistan GTL's ongoing cooperation took a significant step forward with the signing of a Memorandum of Understanding (MOU) on the supply of Low Temperature Fischer Tropsch TM (LTFT) catalysts for the joint venture gas-to-liquids (GTL) project in Uzbekistan.
The signing took place during Baku Energy Week, one of most prestigious events in the energy sector in the Caspian region, held in Baku, the capital of Azerbaijan.
The MOU builds on the initial 2018 catalyst supply agreement between Sasol and Uzbekistan GTL and includes technical support by Sasol, as well as the supply of a next generation catalyst.
"The MOU is an important milestone in our cooperation with Uzbekistan GTL and underpins their trust in our Fischer Tropsch catalyst and our technology leadership in this field," said Dr Cronje Grove, Vice President of Advanced Materials, Sasol Chemicals.
Sasol Chemicals' leading position in the GTL catalyst field is highlighted by the recent establishment of the CARE-O-SENE consortium focused on the development and production of future generation catalysts.
These new catalysts will further improve product yield with the same resource input/optimised resource use and will also reduce costs for its customers. The CARE-O-SENE project will be funded by the German Federal Ministry of Education and Research (BMBF) and Sasol.
Uzbekistan GTL Complex started up in 2021 and produces import-substituting petroleum products and hydrocarbons totalling over US$1 billion/year.
The GTL complex will process 3.6 bcm/year of gas, to produce 1.5 million tonnes/year of high-quality and eco-friendly synthetic fuels, including such oil products as 307,000 tonnes of kerosene, 724,000 tonnes of synthetic diesel fuel, 437,000 tonnes of naphtha and 53,000 tonnes of liquefied gas.