Solvay/3TREES collaborate on PV membrane roofing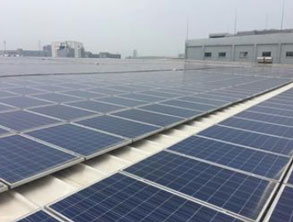 Belgian chemical firm Solvay has entered a collaboration with 3TREES, a leading Chinese building materials manufacturer, to develop building-integrated photovoltaic (BIPV) thermoplastic polyolefin roofing membranes that comply with new 25-year weathering requirements. The project will support China's goal to achieve carbon neutrality by 2060 by accelerating the adoption of distributed rooftop BIPV installations. The demand for BIPV products continues to rise globally, driven by construction projects, new material options and growing consumer preference for sustainable solutions.
In China, using BIPVs to replace conventional thermoplastic polyolefin (TPO) building materials for applications such as roofs, skylights and facades is an emerging trend. Aging requirements for BIPV TPO roofing far exceed the 10-year requirement for standard TPO roofing, a critical factor in offsetting the cost of such installations. However, current TPO solutions in China are unable to meet this specification.
Solvay's Cyasorb Cynergy Solutions B Series UV/thermal stabilizer will enable compliance with the 25-year weathering requirement for BIPV TPO roofing in China, providing excellent protection to TPO and PP parts, even in extreme exposure environments. The stabilisers prevent micro-crack formation, loss of gloss and colour shift, and do not interfere with sealing, painting and other surface treatments. While Solvay's additives can be incorporated in the TPO membrane, they can also be used in photovoltaic panels and support systems, where they provide UV protection for backsheet films and heat stability combined with good chemical resistance.
"Solvay is excited to work with 3TREES to introduce a new BIPV TPO roofing product to the Chinese market," commented Ning Chen, Vice President for Solvay's Polymer Additives business. "Enabled by Solvay's solutions, 3TREES' new BIPV TPO roofing membrane will address the limitations of existing products. We look forward to supporting 3TREES in driving the building and construction industry's shift to BIPV solutions and working toward China's carbon neutrality goals."
Initial testing by 3TREES demonstrated that Solvay's product provides superior stabilization performance. The goal of the collaboration is to work toward the commercialization and scale-up of this solution. The collaboration agreement will cover product testing, qualification, market promotion, new project development and production. Solvay's stabiliser will be incorporated into 3TREES' TPO roofing sheets, allowing the company to far exceed ASTM D6878 and ASTM D573 standards. The stabiliser is also designed to address China-specific standards under evaluation, such as "Technical Regulations for Roofing Engineering of Photovoltaic Modules" and "Technical Specifications for Roofing Engineering." Solvay has more than a decade of experience in the stabilisation of building polymers, supporting leading builders and OEMs in the US.