Solvay in license agreement with Guangzi Chlor-Alkali for hydrogen peroxide plant in China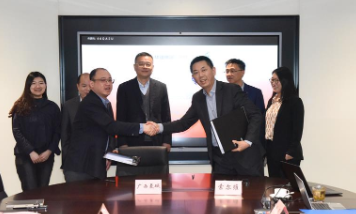 Chemical firm Solvay has signed a license agreement with Guangxi Chlor-Alkali Chemical (GHCAC), a joint venture between Shanghai Chlor-Alkali Chemical Co. and parent company Shanghai Huayi Group Co.. The license will enable the Chinese partner to build and operate a hydrogen peroxide megaplant at Qinzhou (Guangxi Zhuang Autonomous Region) designed to support its 300 kilotonnes propylene oxide (PO) production and other units on site.
Under this license, Solvay will provide its proprietary hydrogen peroxide mega-scale, high productivity process technology to GHCAC, including a dedicated process design package, operating expertise and a range of services to ensure the optimised and reliable production of the new megaplant. In addition, the company will also supply GHCAC with proprietary 2-amylanthraquinone (AQ), the key chemical contributing to the high productivity and environmentally-friendly chemical processes of Solvay's megaplant technology.
It has been further agreed that Solvay will have a hydrogen peroxide offtake after the megaplant starts up. This will support the strategic growth of Solvay's hydrogen peroxide business in China, in particular in the southern area.
"We are very pleased that GHCAC has chosen our advanced hydrogen peroxide technology for this important megaplant project in Qinzhou," says Peter Browning, President of Solvay's Peroxides global business unit." This will allow the customer to meet market needs with a process design package backed by more than 50 years of experience, which provides an energy efficient and cost competitive solution with an excellent safety track record."
Weimin Zhang, General Manager of Shanghai Chlor-Alkali Chemical, commented: "We are honoured to work with Solvay in this ambitious venture, which will enable us to run the new hydrogen peroxide megaplant at lower energy consumption and less CO2 emissions than competitors. Next to the proven safety, reliability and cost effectiveness of Solvay's high-productivity hydrogen peroxide technology, its sustainability benefits were instrumental to deploying it at our Qinzhou site."
The propylene oxide is a versatile chemical intermediate for a wide range of materials in many industrial and commercial market segments, including polyurethanes, propylene glycol ethers and propoxylated organic specialty compounds.