US$350 mn methanol plant in West Virginia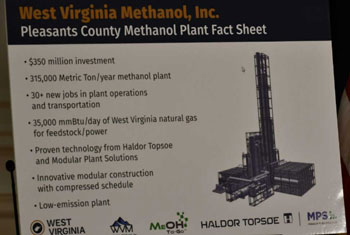 US company West Virginia Methanol has selected a site in Pleasants County in northern West Virginia for a US$350 million methanol plant. The plant will produce 900 metric tonnes/day of high-purity methanol from natural gas in the Appalachian Basin.
Read: Proman to build world's largest green methanol plant in Belgium
West Virginia Methanol, with headquarters in Charleston, West Virginia, is working on permitting and final design details. It expects to make a final investment decision on the project near Parkersburg, West Virginia, in the first half of 2021.
Operations could begin as early as mid-2023.
The selected site formerly housed an industrial plant and has infrastructure already in place. The company said it will use a technology developed by Haldor Topsoe to produce methanol in three units at the plant.
Separately, another US firm, US Methanol, is developing two methanol facilities near Charleston, West Virginia. Known as the Liberty One project, it is expected to produce 200,000 tonnes/year. It is slated to begin commercial operations on 2Q 2021.
Methanol is an important component for industrial products and a feedstock for chemical companies.