Fujitsu, AutoGrid augment renewable energy use in Japan with VPP solution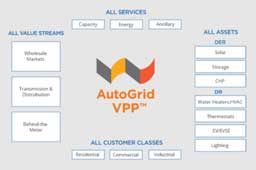 Japanese ICT company Fujitsu Limited, and AI-powered software solutions provider AutoGrid Systems will be offering Autogrid's virtual power plant (VPP) solution, AutoGrid Flex. Fujitsu will sell the AutoGrid Flex to the Japanese market, with a goal of JPY 3.8 billion sales by the end of March 2026.
AutoGrid Flex optimises energy operations and the control and management of distributed energy resources. The solution will enable energy providers to maximise the use of renewable energy sources, such as solar power, and distributed energy resources, such as storage batteries. Going forward, Fujitsu will expand its capabilities in the area of energy data utilisation to achieve real-time, high-precision, optimised control of distributed energy resources, significantly enhancing the value of energy resources managed by energy providers and aggregators.
According to Michiaki Morioka, Head of Utility Business Division, Fujitsu, distributed energy resources were introduced in Japan to promote grid resiliency, but it often proves difficult to predict and adjust the amount of energy supplied. Energy providers, aggregators, and grid operators have started building VPP systems to operate energy efficiently and to respond to the expanding energy trading market. "By utilising Fujitsu's strong partnership with customers in the energy industry as well as AutoGrid's experience of deploying VPP solutions globally, this partnership will contribute to the creation of an industry-wide next-generation energy platform," Morioka added.