YPF and Petronas tie up for LNG plant in Argentina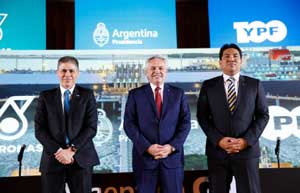 Malaysian oil firm Petronas has signed a memorandum of understanding (MoU) with Argentina's largest integrated oil and gas company, YPF, to pursue collaboration in Argentina in an integrated LNG project and other areas, including upstream oil, petrochemicals, and clean energy solutions.
The MoU was formalised by Petronas President/Group CEO, Datuk Tengku Muhammad Taufik and YPF Chairman/President, Pablo Gonzalez.
In addition to the MoU, YPF and Petronas's operating entity in Argentina, Petronas E&P Argentina S.A. executed a joint study and development agreement (JSDA) towards the study and potential development of the Argentina Integrated LNG project which will encompass dedicated upstream gas production, dedicated pipeline and infrastructure development, LNG production as well as marketing and shipping.
The Final Investment Decision for the projects will be undertaken after diligent technical and commercial assessment has been conducted, backed by conducive fiscal terms, legislation and policies.
Datuk Tengku Taufik said, "Petronas is focused on expanding and diversifying our integrated opportunities to capture key markets. This collaboration signifies a continued aspiration to achieve shared business growth, as well as in providing sustainable and cleaner energy solutions.
"Petronas' expertise in integrated LNG and unconventional plays will add value to the intent and synergy of both parties in further exploring potential LNG opportunities in Argentina, leveraging on Vaca Muerta's vast unconventional gas resources," he added.
Petronas's strategic alliance with YPF began in 2014 through its partnership in the La Amarga Chica project, Vaca Muerta, as part of its growth aspiration in the Americas.
YPF operated a brief run at LNG exports between 2019 and 2020, with its Tango FLNG project that was installed in Bahia Blanca. The project's operations were short-lived, however. Six LNG cargoes were exported, before payments were terminated and Exmar took back the vessel.

Tango FLNG has since been acquired by Italy's Eni for its exports in the Republic of Congo. Eni's project could start production as soon as the second half of 2023. Sources said that YPF could consider a bridging venture using floating LNG again while pursuing an onshore liquefaction project, which could be planned as a sizeable project.

One source said as much as 25mtpa was under consideration, but that this sounded overambitious. Argentina has been a net importer of LNG, particularly during the country's southern hemisphere winter.