Sibur kick-starts building of Amur Gas chemical complex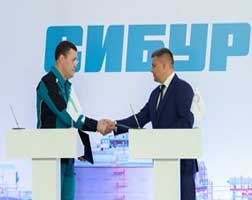 Russian petchem firm Sibur has started construction of its massive US$10 billion  Amur Gas Complex, which is set to house the world's largest steam cracker as well as downstream polymer production plants to be located in the Svobodny district of Amur region. The project is scheduled for completion in 2024 and commissioning in 2025.
The official ceremony was held online and was attended via video conference by Mikhail Mishustin, Prime Minister of the Russian Federation, relevant Ministers, Vasily Orlov, Governor of the Amur Region, Dmitry Konov, Chairman of the Management Board at Sibur Holding, and other representatives of government authorities, the company and its partners.
The Amur GCC project envisages construction of a basic polymer production facility with a total capacity of 2.7 million tonnes/year (2.3 million tonnes/year of PE and 400 kilotonnes/year of PP). The facility will feature a unique and the world's largest cracking unit for the first-stage processing of incoming feedstock.
Amur GCC will be launched together with the gradual ramp-up of Gazprom's Amur Gas Processing Plant to its full capacity. The polymer facility will receive ethylene and propylene from the cracker being built at the same site.
Completion of the project is set for 2024–2025 and is set to take the company's overall capacity to 4.2 million million tonnes/year, following on from the recently completed ZapSib petrochemical complex in Russia's Tobolsk region.
Sibur said the company will partner with Chinese petrochemical firm Sinopec in the Amur project, with the country being a target market for Amur GCC.
Read: Sibur selects LyondellBasell PP tech for Amur complex in Russia
Most on-site preparations at AMUR GCC have been accomplished. Contracts for detail design and equipment and materials supplies for the facility's key process units have been signed and are being fulfilled. Sibur's technology partners are Linde and NIPIgaspererabotka (cracking units), Univation Technologies and Chevron Phillips (ethylene polymerisation) and LyondellBasell (propylene polymerisation).
NIPIgaspererabotka will be responsible for project management, procurement and construction of off-site facilities.
 "This is one of the largest investment projects in Russia that brings strategic benefits to the gas industry and the country at large. In a very short span of time, Russia's Amur Region will see the opening of a giant factory with most advanced production techniques based on modern IT and telecommunications technologies. Launching these technologies is an investment in the future. We are forging new growth paths for the Amur Region, giving an impetus to the local economy. I am confident that the project will create thousands of high-tech jobs and drive the development of the transport and social infrastructure in the region. This will not only boost the economy, but will make the life of people in this beautiful place more comfortable. Building a gas chemical complex will unleash new opportunities for the region and coupled with the opening of a gas processing plant will surely create a multiplier effect for the economy," said Mikhail Mishustin.
"Amur GCC that we are laying the foundation for today is a world-class project of high strategic importance to our region. It will create a multiplier effect, improving the image of the region, attracting investment, contributing to the region's GDP and generating tax revenues for budgets of all levels, as well as facilitating the development of related and associated industries and social infrastructure. As a highly resource-intensive project this facility will increase the number of jobs at both construction and post-commissioning stages. With a new gas chemical cluster in place, students and graduates will have a wider choice of careers to pursue. This will help us curb talent outflow and offer the youth new digital professions and opportunities for well-paid interesting jobs in the Russian Far East," said Vasily Orlov.
"Amur GCC is another step forward towards transforming SIBUR into a global-level petrochemical company. The complex will be a key project in Sibur's investment programme for the next five years and upon commissioning will almost double our basic polymer production capacities, even taking into account ZapSibNeftekhim that is currently ramping up to the full-scale output level. Long-term forecasts for petrochemicals demand, proximity to the sales markets and a well thought out feedstock base give us confidence that Amur GCC will be a highly effective and competitive business that will help Sibur gain a strong foothold in both Russia and globally," said Dmitry Konov.