ADNOC, Reliance tie up for world-scale chem projects in Ruwais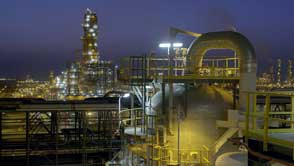 Abu Dhabi National Oil Company (ADNOC) and India's Reliance Industries Limited (Reliance) signed an agreement to join a new world-scale chlor-alkali, ethylene dichloride and polyvinyl chloride (PVC) production facility at TA'ZIZ in Ruwais, Abu Dhabi. The said deal builds on the growing demand for these critical industrial raw materials.
Chlor-alkali is used in water treatment and in the manufacture of textiles and metals. Ethylene dichloride is typically used to produce PVC, which has a wide range of applications across housing, infrastructure and consumer goods.
The project, to be constructed in the TA'ZIZ Industrial Chemicals Zone, which is a joint venture between ADNOC and ADQ, represents the first investment by Reliance in the region.
The agreement is part of ADNOC's downstream and industry growth plans in line with its 2030 strategy. It informed that petrochemical, refining and gas growth projects are currently under construction, with a number of projects also recently completed across the downstream and industry portfolio.
Under the terms of the agreement, TA'ZIZ and Reliance will construct an integrated plant, with capacity to produce 940,000 tonnes of chlor-alkali, 1.1 million tonnes of ethylene dichloride and 360 thousand tonnes of PVC annually.

Read: ADNOC, Mubadala & ADQ tie-up to boost Abu Dhabi's hydrogen economy