Aramco targets 2 mn tonnes of blue hydrogen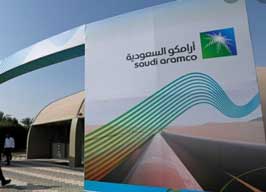 Saudi Arabia's oil giant Aramco has set a target to reach 12GW of solar and wind capacity by 2035, and produce 11 million tonnes of blue ammonia by 2030, which would require 1.93 million tonnes of blue hydrogen produced from fossil gas linked to carbon capture and storage (CCS).
The company, which has already been backing large renewables projects such as the 1.5GW Sudair Solar project, didn't give much detail about its wind and solar goal, nor its blue H2 plans. But it said the renewables investments would translate into a reduction of 14 million tonnes of CO2 per year, while it would reach a cut of another 11 million tonnes of CO2 through CCS.
"Our ambition is to achieve operational net-zero by 2050 and our sustainability report highlights how we aim to continue meeting the world's rising demand for secure, reliable and affordable energy, while also contributing to the broader energy transition," said Aramco chief executive Amin H. Nasser.
"We are investing for the long-term, against a backdrop of global energy and economic uncertainty, and we will continue to integrate breakthrough technologies in our operations over the next decade and beyond."
Aramco's approach on hydrogen seems to differ from that of many other oil & gas supermajors that next to blue hydrogen projects also massively explore green hydrogen technologies that produce H2 via electrolysis from renewable power.
The blue ammonia / blue hydrogen business has the potential to support significant emissions reductions in hard-to-decarbonise sectors such as heavy-duty transport, heating, and industrial applications, the company stressed.
Of course, due to upstream methane emissions and the inability of methane reformation equipment to capture all of the CO2 emitted in the production process, blue hydrogen is considered low-carbon, rather than zero-carbon, so is unlikely to be a long-term solution as the world races to reach its net-zero goals.
Indeed, the EU has plans to import millions of tonnes of green hydrogen, while offering no support for the blue variety.
Aramco has previously transported a pilot shipment of blue ammonia to Japan, which is more likely to be its target export market than Europe.
And while much of the world is currently in the midst of a gas price crisis, which makes blue hydrogen unattractive in the short term, Saudi Arabia neither imports or exports natural gas, meaning the price is not affected by global markets.
A recent report by the King Abdullah Petroleum Studies and Research Center found that blue H2 made in Saudi Arabia could be produced today for $1.34/kg — just $0.44/kg more than unabated grey hydrogen and far less than the equivalent price for green H2 of $2.16/kg. But by 2030, the difference is expected to narrow, with renewable hydrogen at $1.48/kg and blue at $1.13/kg.
Aramco might find itself in competition with the 4.3GW green hydrogen project now under construction at Neom, which aims to ship 1.2 million tonnes of green ammonia by 2026.
In total, Aramco aims to reduce its upstream carbon intensity by at least 15% by 2035 (against a 2018 baseline). All of its greenhouse gas emissions initiatives combined aim to reduce or mitigate more than 50m metric tons of CO2. The company also has energy efficiency, methane and flaring reduction and carbon offset projects.