G-20 nations still support fossil-fuel production, use; low-carbon policies insufficient – Report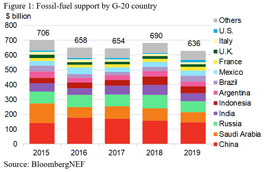 Bloomberg Philanthropies and BloombergNEF (BNEF) have released a new Climate Policy Factbook outlining the progress that each G-20 member country has made toward moving to a low-carbon economy. According to BNEF, the report was released to increase transparency and inform policy priorities ahead of upcoming international climate negotiations, including the G-20 Summit and Ministerial Meetings, the 75th Session of the UN General Assembly, and COP26.
The Climate Policy Factbook, which can be accessed at https://assets.bbhub.io/professional/sites/24/BNEF-Climate-Policy-Factbook_FINAL.pdf, highlights three areas in which immediate government action is needed to limit global warming to 1.5° C, including phasing out support for fossil fuels, putting a price on emissions, and  encouraging climate risk disclosure. In each of these areas, the report found that the policies of many G-20 countries were significantly off course.
The Climate Policy Factbook builds on Bloomberg Philanthropies and BNEF's recent release of the Energy Transition Factbook, which delivered accurate, transparent climate and energy data to government, businesses, and financial decision-makers ahead of the 12th Clean Energy Ministerial. Bloomberg Philanthropies and BNEF will continue to track G-20 countries' progress toward implementing effective policies in the three priority areas.
"Winning the fight against climate change requires urgent and bold action across every industry, and we need governments to lead the way," said Michael R. Bloomberg, founder of Bloomberg LP and Bloomberg Philanthropies and the UN Secretary-General's Special Envoy on Climate Ambition and Solutions. "Our hope is that G-20 members take this report to heart, use its recommendations to hit their Paris Agreement targets, and show the world the health and economic benefits of building a resilient, sustainable global economy."
Read also: G-20 nations still support fossil-fuel production, use; low-carbon policies insufficient – Report
BNEF stated that global groups have sought for robust and credible climate action, especially in these three specific areas ahead of critical climate events this fall. The Net Zero Assets Owners Alliance, which comprises international institutional investors, committed to transitioning investment portfolios to net-zero greenhouse gas emissions by 2050, recently came out in support of the adoption of carbon pricing mechanisms to regulate emissions globally. The Alliance has repeatedly called on governments to implement the robust and credible climate policies needed to ensure the objectives of the Paris Agreement are met, as well as manage the costs of climate change and safeguard the stability of the global financial system.
Dr Günther Thallinger, Member of the Board of Management of Allianz SE and Chair of the UN-convened Net-Zero Asset Owner Alliance said, "As of today, policy frameworks across most G-20 countries are not sufficient to drive real economy to net-zero transition to achieve 1.5°C with reasonable likelihood. The new NDCs and 2050 net-zero targets from some G-20 countries are warmly welcome, however pledges and targets alone will not be sufficient to change course. The development and publication of credible 2030 emission reduction plans, which create a rising price on carbon and have clear regulatory standards, including on climate-related financial disclosures are urgently needed."
Phasing out support for fossil fuels, particularly coal, and shifting funding to renewables is core to the COP26 goals and a crucial step to accelerating the clean energy transition, BNEF said. However, the report finds that governments of all 19 individual country members of the G-20 continue to provide substantial financial support for fossil-fuel production and consumption. Although, according to BNEF,  G-20 governments have announced ambitious climate commitments to reach the goals of the Paris Agreement, those same countries have continued providing support for coal, oil, gas, and fossil-fuel power, including US$3.3 trillion between 2015 and 2019. At today's prices, that sum could fund 4,232GW in new solar power plants – over 3.5 times the size of the current US electricity grid.
G-20 nations collectively cut fossil fuel funding by 10% from 2015 to 2019, with eight member nations making notable progress in reducing their fossil fuel subsidies by 10% or more (Argentina, Germany, Italy, Saudi Arabia, South Africa, South Korea, Turkey, and the UK.). However, to remain in line with the Paris Agreement goals in the lead-up to COP26, the G-20 cannot rely on the actions of a few nations, said BNEF, adding that every G-20 country must take immediate action to end support of fossil fuel projects and accelerate their coal phaseouts. During the same timeframe (2015-19), eight members increased their support – notably Australia, Canada, and the US – encouraging the use and production of fossil fuels, distorting prices, and risking carbon 'lock-in' – where assets funded today continue to emit high levels of emissions for decades ahead.
To effectively lead the phase-out of coal and other fossil fuels ahead of COP26, G-20 countries must also implement emission pricing mechanisms to hold polluters accountable for the true social cost of their actions, said BNEF. To date, 12 G-20 countries have established nationwide prices on greenhouse gas emissions either by a carbon tax or market-based mechanisms, with France and Germany making the most progress in terms of share of emissions covered by a carbon tax or market. This is partially due to their participation in the EU Emissions Trading System (ETS), and their own national policies that increased the share of emissions covered by an emission price.
BNEF said that eight of the countries that have adopted emission pricing have produced mixed results due to lax policies, with either the carbon price set too low or the concessions to emitters too generous, . For example, in the US, state-level programs cover less than one-tenth of national emissions, collectively, and prices are relatively low. Several G-20 countries, such as Saudi Arabia, Russia, and Brazil, have yet to put a price on greenhouse gas emissions.
According to BNEF, enforcing globally accepted climate-risk disclosure frameworks, like that of the Task Force on Climate-related Financial Disclosures (TCFD), is critical to ensuring climate risks and opportunities are assessed accurately, so financial institutions can consider and price the impact of climate externalities into their credit risk and valuation models. While the G-20 has voiced support for voluntary climate-related reporting, few members have legislated it. Central banks also play an important role in climate-related disclosure alongside their respective G-20 governments by integrating climate risks into the 'stress tests' they routinely conduct to test financial institutions' health and assessing their stability under potential climate scenarios.
"Given that the G-20 accounts for nearly three-quarters of global emissions, progress from those governments in these three areas would mark a huge step forward toward tacking climate change. So far, they have yet to step up to the plate," commented Victoria Cuming, head of global policy at BloombergNEF and lead author of the Factbook.