PetroChina to offload some foreign projects to cut losses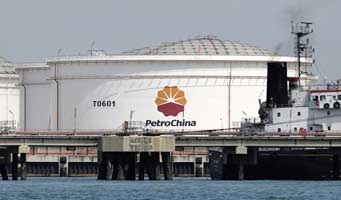 Chinese oil and gas major PetroChina plans to exit natural gas projects in Australia and other oilsands projects in Canada due to incurred losses and tight circumstances relating to these projects. Following an internal review of their global portfolio, PetroChina hopes to sell some of their assets in the next two years and will instead focus on projects on sites in Africa, the Middle East, and Central Asia.
PetroChina is following in the footsteps of the China National Offshore Oil Corp. (CNOOC), which is preparing to exit projects in Britain, Canada, and the US due of concerns these assets could become subject to Western sanctions.
But, unlike CNOOC's sales, PetroChina's divestitures are driven more by their assets' disappointing economics than a fear of US sanctions, along with political strains with Australia and Canada.
PetroChina does not own any oil and gas assets in the US.
Among the top "negative assets" in PetroChina's global portfolio are Australian gas assets, Arrow Energy and Browse. PetroChina bought Arrow Energy in 2010 for USD2.5 billion via a joint venture with Shell, in its first investment in Australia's coal seam gas sector. It purchased BHP's stake in Browse, Australia's largest untapped gas resource, in 2013 for USD1.63 billion.
PetroChina is also looking to offload the wholly-owned MacKay River Oilsands and Dover Oilsands projects in Canada because of losses producing and processing the tar-like fuel into bitumen. The Chinese company paid CAD1.9 billion (USD1.48 billion) in 2009 for a 60% stake in the Dover and MacKay River projects from Athabasca Oil Corp. and then purchased the remaining stakes in the projects for a similar amount over 2012 and 2013.
However, PetroChina is displeased with the Canadian projects' relatively high production costs. Both sites additionally face discontent from locals over their environmental impact.
PetroChina declined to comment on the divestment.